In our surveys last fall, China was a clear winner in the competition between great powers for hearts and minds of ordinary citizens in the Middle East and North Africa (MENA). In all countries surveyed, China was viewed far more favorably than then United States. However, this finding has changed over the past six months, with U.S. favorability increasing dramatically while views of China have largely held constant. As a result, although China remains more popular overall, the gap has decreased significantly in many countries while the U.S. is now on even footing with China in some countries.
Since October 2020, perceptions of the U.S. have improved the most in Morocco (+36 points) and Libya (+36 points) followed by Jordan (+21 points), Tunisia (+17 points), and Algeria (+7 points). Only in Lebanon are views of the U.S. unchanged (+2 points).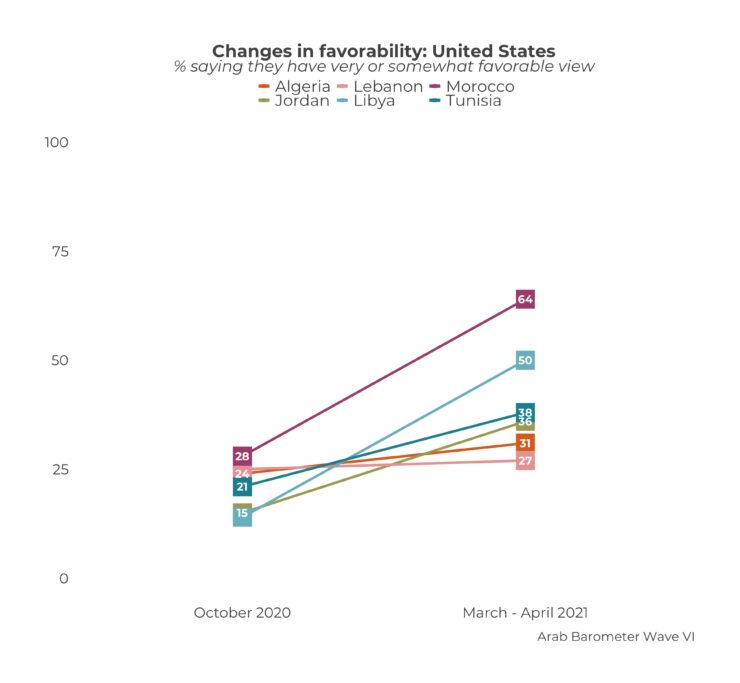 These improving views are clearly linked to the change in U.S. administration following the November 2020 election. On the eve of the U.S. election before the Biden victory, Biden was preferred by four times as many citizens in six of seven countries surveyed. For example, in Tunisia, 52 percent said they believed Biden's policies would be better for the region compared with 12 percent who say Trump's would be preferable. Similar results are found in Algeria (43 percent vs. 7 percent), Libya (38 percent vs. 10 percent), and Morocco (39 percent vs. 9 percent). Only in Lebanon is there no meaningful difference between the two candidates with Trump being supported by 17 percent and Biden by 16 percent, while the plurality (42 percent) says both would be equally bad.
The difference in views of the U.S. administration can also be seen on the ratings of the respective policies of the two administrations. In October 2020, fewer than one-in-five rated the policies of President Trump as good or very good. Support was highest in Lebanon (18 percent), followed by Morocco (15 percent) and Algeria (12 percent) while only seven percent in Jordan and six percent in Tunisia rated Trump's policies favorably. By comparison, at least 19 percent in all countries surveyed in March and April 2021 say President Biden's policies have been good for the MENA region. Ratings are highest in Libya (47 percent) and Morocco (46 percent) and lowest in Algeria (23 percent) and Lebanon (19 percent). Notably, in all countries except Lebanon, ratings of Biden's foreign policy are at least 10 points higher than Trump's at the end of his term.
Additionally, at the time of the spring 2021 survey, many across MENA believed that U.S. policy had indeed changed under Biden compared with Trump. Roughly half or more in four countries surveyed said that policy differed to a great or medium extent under Biden. Only Lebanese and Jordanians believe relatively little has changed (27 percent in each).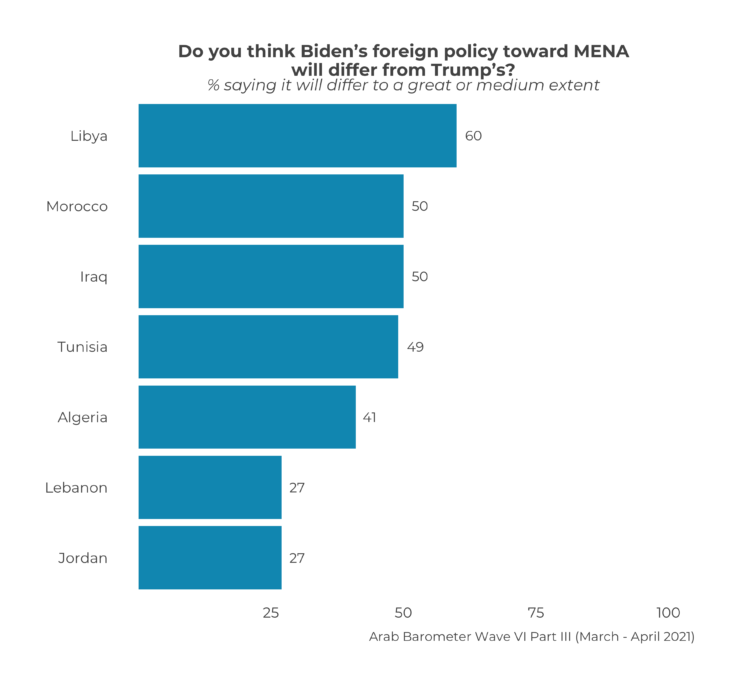 Despite this hope, ongoing U.S. policies toward the region continue to have a strong negative effect on public opinion. For example, the U.S. has recently placed a strong emphasis on normalizing relations between Arab states and Israel, and this has not changed under Biden. Recent agreements between the UAE and Israel and Bahrain and Israel have been met with widespread rejection across the MENA region. In Lebanon, 20 percent favor these accords while fewer than one-in-ten do in all other countries surveyed. Support for the normalization agreements between Israel and Morocco is relatively similar across the region, including support of just 21 percent in Iraq, followed by Lebanon at 14 percent and fewer than one-in-ten in four other countries surveyed favoring this deal. The key exception in this regard is Morocco itself, where 41 percent of citizens favor the agreement, likely due in part to the fact that the U.S. officially recognized Moroccan sovereignty over Western Sahara when normalization was announced.
Given the strong sentiments about Israel, it is possible that the Biden administration's recent statements and actions on the most recent regional escalation in May 2021 could have led to a decline in U.S. favorability since these surveys were fielded, effectively ending the period of hope for a new direction for U.S. policy toward the MENA region. However, it is too soon to say if there will be long-term consequences or if Biden's reversal of other Trump-era policies may lead to a sustained improvement in views of the U.S.
Meanwhile, while views of the U.S. have improved since October 2020, there has been relatively little change on perceptions of China during the same period. In all but one country surveyed, views of China have changed by 10 points or less. As before, China is most widely supported in Algeria (65 percent) followed by Morocco (62 percent). Views of China have improved somewhat in Morocco (+10), perhaps due, in part, to the fact that Morocco has primarily secured Chinese-made vaccines in their successful vaccination campaign against COVID-19. Chinese favorability is also relatively high in Libya (60 percent) and Tunisia (59 percent) while it is by far the lowest in Lebanon (38 percent) and Jordan (34 percent).
These results make clear that relative perceptions of global powers in the MENA region have indeed changed since the leadership turnover in Washington. Although China remains more popular overall, the image of the U.S. has improved markedly in nearly all countries surveyed. Today, in both Jordan and Morocco, favorability toward the U.S. and China is effectively equal, while the U.S. has closed the gap in many other countries. Mostly, this appears to be driven by hopes for policy changes under the Biden administration. However, given that the surveys were conducted in the early days of Biden's term, this upswing is likely based on wishful thinking instead of policy shifts. If citizens in the MENA region perceive relatively little change in policy toward the region from the Biden administration, it is likely that U.S. favorability will decline once again.