As U.S. influence across MENA has decreased in recent years, many regional actors have tried to fill the gap, increasing their military presence in the region. Russia has reemerged as a significant military player in the region while Turkey has heightened not only its military profile, but also its cultural and economic profile as well. At the same time, the multi-layered rivalry between Saudi Arabia and Iran for regional dominance continues. Amidst these competing forces, Arab Barometer examines how ordinary citizens view these countries in late 2020. The evidence suggests that a heavy military footprint often has strong implications for how regional powers are perceived in theater countries and their direct vicinity.
Amongst these four powers, support across the region is highest for Turkey, with majorities holding favorable views of the country in four of the six countries surveyed. Support is highest in Morocco (65 percent), followed by Jordan and Algeria (56 percent, respectively), and Tunisia (52 percent). However, support is not universal, with only three-in-ten holding this view in Lebanon compared with 27 percent in Libya. In Lebanon, views are linked by sect, with 45 percent of Sunnis favoring Turkey, compared with 35 percent of Christians, 11 percent of Shiites and only seven percent of Druze. Meanwhile, those living in eastern Libya, which is under the control of the Libyan National Army (LNA), are less likely to favor Turkey compared with those in other parts of the country, which follows from Turkey's intervention against LNA forces. More specifically, 41 percent of Libyans living in the governorate of Tripoli have a positive view of Turkey compared with 17 percent of those living in the governorate of Benghazi.
Russia, who is also militarily involved in Libya, is viewed less positively than Turkey. Only in Algeria does at least half (52 percent) hold a favorable view of Russia. There is moderate support for Russia in Tunisia (44 percent) and Morocco (43 percent), while roughly a third (36 percent) have a positive view in Lebanon. Finally, support for Russia is relatively low in Libya (26 percent) and is the lowest in Jordan (15 percent). In Lebanon, Shiites (60 percent) are far more likely than Sunnis (three percent) to favor Russia, while 48 percent of Christians and 37 percent of Druze hold a positive view of it. These broad differences are most likely a byproduct of Russia's military support for the Assad regime in Syria. In Libya, however, differences in levels of support are not as divided by region. Those living in the governorate of Tripoli (36 percent) are about as likely as those in the governorate of Benghazi (32 percent) to hold a positive view of Russia. These results suggest that the Russian military intervention in the country is viewed relatively poorly by the populations living under both main rival governments in Libya. The low levels of support in Jordan most likely correspond with Jordanian public opinion about Russia's military interference in Syria.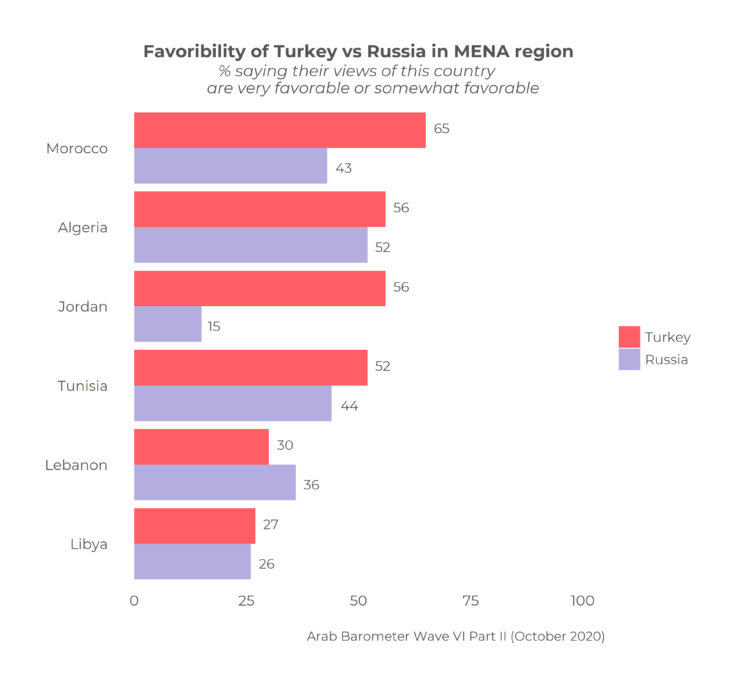 In the competition between Gulf powers, Saudi Arabia is viewed more favorably than Iran. However, in the five countries where the question was asked, only in Morocco (53 percent) does a majority hold a positive view of Saudi Arabia. Meanwhile, support is lower in Algeria (47 percent) and Tunisia (36 percent) and it is relatively low in Jordan (28 percent) and Lebanon (25 percent). In Lebanon, Christians and Sunnis are significantly more likely to favor Saudi Arabia (40 percent and 34 percent, respectively) compared with Druze and Shiites (three percent and two percent, respectively). However, it is notable that in Lebanon only a third of Sunnis, an even smaller proportion than for Christians, hold a favorable view of Saudi Arabia. That minorities in all countries but Morocco support Saudi Arabia may be a direct implication of its military and political interventions in Yemen and elsewhere.
In comparison, support for Iran is low across all countries surveyed, with Moroccans being most favorable at 35 percent. Elsewhere, a quarter or fewer hold favorable views, including just 10 percent in Jordan. In Lebanon, support is strongly divided by sectarian identity, with Shias having far more favorable views than other sects. Overall, 65 percent of Shiites in Lebanon have a positive view of Iran compared with just ten percent of Christians, five percent of Druze and four percent of Sunnis. This low support, too, may be attributed not only to sectarian tensions across the region, but a general rejection of Iranian military and political interventions in Lebanon, Syria, Yemen and elsewhere.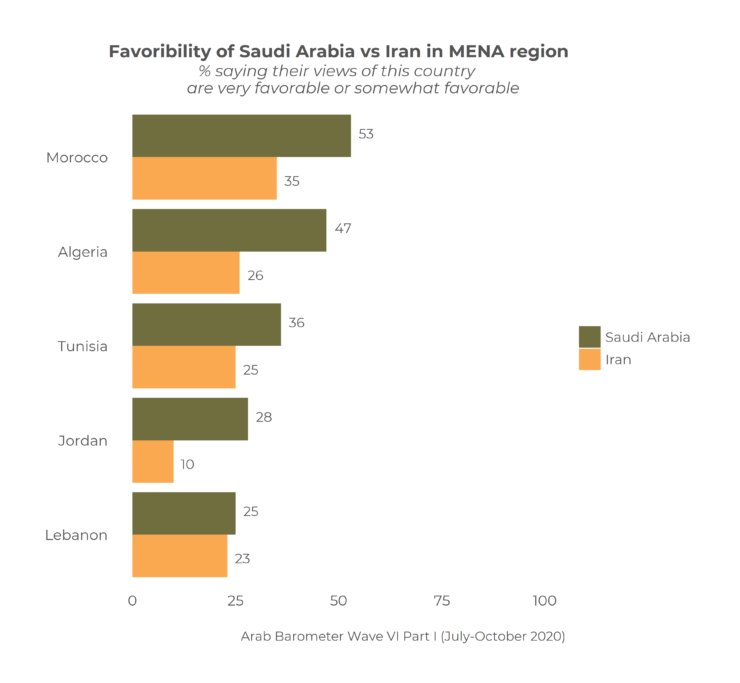 Overall, these results paint a mixed picture of regional powers. Support is highest for Turkey across the region, but it generally is lower in countries that have been impacted by Turkey's military interventions, directly or otherwise. The same is true for Russia, as those living in Lebanon, Libya and Jordan also exhibit lower levels of support for this regional power. Levels of support for Saudi Arabia suggest a similar pattern. Prior to 2016, Arab Barometer surveys found Saudi Arabia to have high support in most countries across the region. However, its military intervention in Yemen and political interference in other countries may be proving costly in the eyes of Arab publics, which may explain, in part, the declining support for the Kingdom over recent years. Finally, low levels of support for Iran are reflective of its regime officials boasting about having control over four Arab capitals. These findings suggest that military intervention by outside powers has strong implications in the battle for hearts and minds across the region.