Globally, a new competition is taking place between the U.S. and China, which extends to the Middle East. China has taken an increasing role in the region, providing aid to governments for COVID-related relief, building on years of increased involvement in MENA through its Belt and Road Initiative (BRI). As the Trump administration has changed the terms of U.S. engagement, seeking to withdraw troops from the region while building relations between Israel and Arab countries, Arab Barometer conducted nationally representative surveys in six countries – Algeria, Jordan, Lebanon, Libya, Morocco, and Tunisia – to gauge the attitudes of ordinary citizens on how they view these two world powers.
The survey results make clear that Arab publics prefer China. China is viewed favorably by half or more in three countries – Algeria (60 percent), Morocco (52 percent) and Tunisia (50 percent) – while a third or more have a positive view in Lebanon (43 percent), Jordan (35 percent) and Libya (34 percent). By comparison, fewer than a third have a favorable view of the U.S. in all six countries, ranging from a high of 28 percent in Morocco to a low of 14 percent in Libya.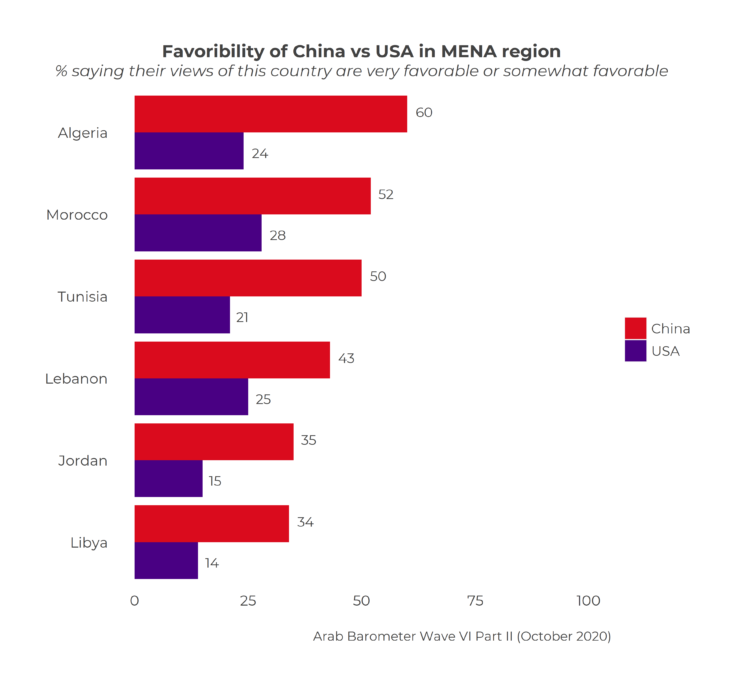 These two global powers take different approaches to engagement in the region. China's involvement tends to focus more on economic issues while the U.S. is more deeply engaged politically. Yet, despite China's growing economic ties in MENA, relatively few Arab citizens say that China represents a major economic threat. Lebanese are the most likely to say that China's economic involvement represents a critical threat (26 percent) followed by Tunisians (21 percent). Meanwhile, just 13 percent of Algerians say the same. In comparison, Arabs are far more worried about U.S. economic power being a critical threat to their country, including 47 percent in Lebanon, 43 percent in Tunisia, and 31 percent in Algeria. Only in Morocco are citizens roughly equally concerned of the threat of Chinese vs. American economic power.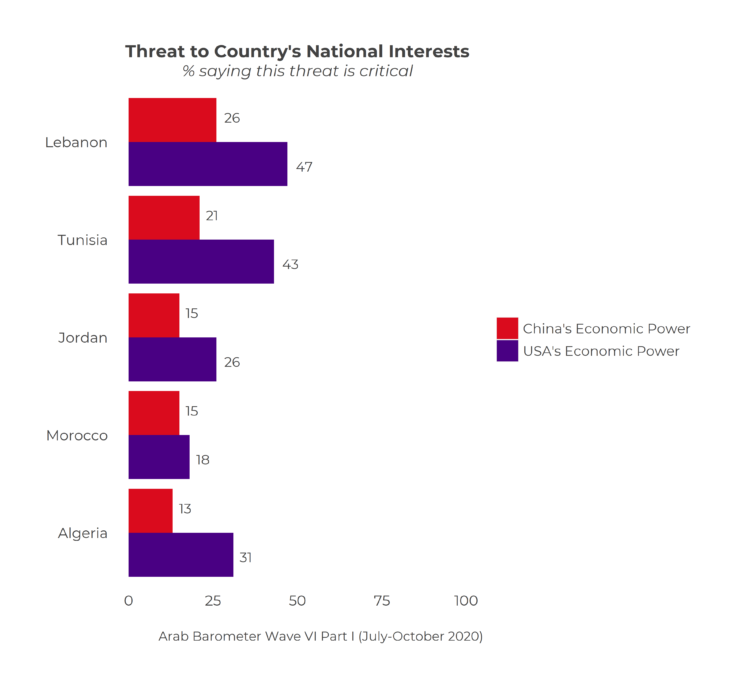 Despite concerns about U.S. economic power, many citizens have positive views toward U.S. foreign assistance saying that it benefits key groups. When asked if U.S. foreign aid strengthens civil society, half in Lebanon, 46 percent in Tunisia, 41 percent in Morocco, and 40 percent in Jordan hold this view. Similar percentages say the same about U.S. in regard to women's rights. In Lebanon, 48 percent say it accomplishes this goal as do 45 percent in Tunisia, 43 percent in Jordan, and 38 percent in Morocco. However, Algerians and Libyans are somewhat more suspect about the motivations for U.S. aid in both areas.
The surveys offer evidence that differences in attitudes toward China and the U.S. may be due in large part to views of these countries' respective leaders and their foreign policies. When asked if Chinese Premier Xi Jinping's foreign policy has been positive for MENA, many say yes, including 42 percent in Algeria, 39 percent in Morocco, 34 percent in Lebanon and 30 percent in Tunisia. At the same time, support is somewhat lower in Libya (22 percent) and Jordan (21 percent).
However, in all cases this level of support is above that of U.S. President Donald Trump. Views that his foreign policy have been positive for MENA are highest in Lebanon 18 percent and followed by Morocco (15 percent).  However, just seven percent in Jordan and six percent in Tunisia hold this view. Notably, Arab citizens are also far more familiar with Trump's foreign policies, with 12 percent or fewer saying they don't know whether his foreign policies have been good for MENA in all countries except Jordan. By comparison, at least 16 percent say they don't know about Xi's policies in all countries surveyed, including as many as 39 percent in Jordan.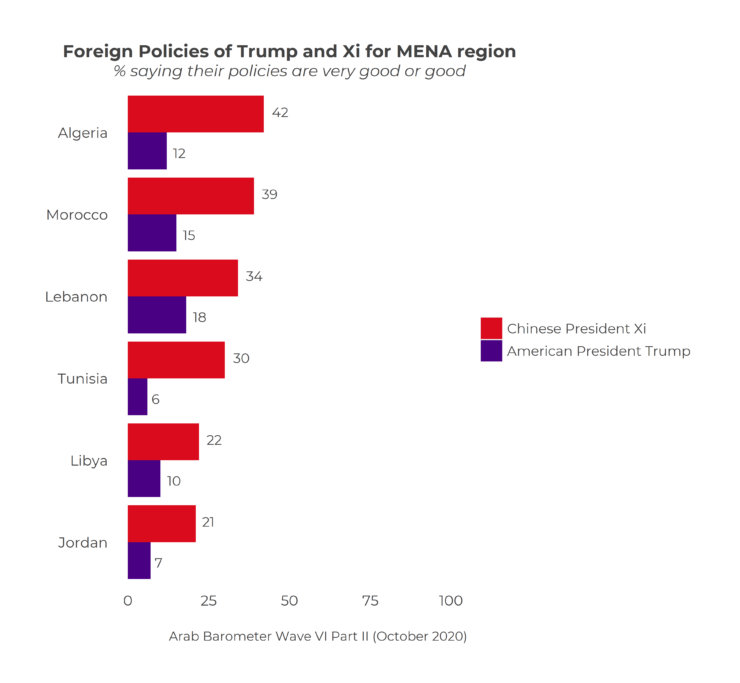 Views of Trump's foreign policies were likely driven in large part by the signing of normalization agreements between Israel and a number of other countries, including the UAE, Bahrain, and Sudan shortly before the surveys were fielded in October 2020.  As detailed previously, these agreements are not supported by most ordinary citizens in the region. Fewer than one-in-ten have positive views of the Abraham Accords in all countries surveyed except Lebanon, where just 20 percent do.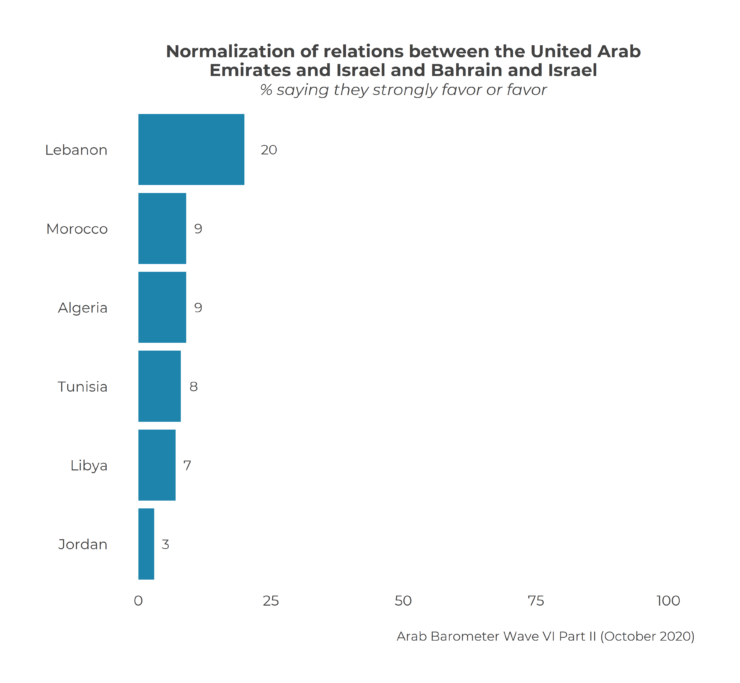 Perhaps as a result, citizens across the region are far more supportive of U.S. President-elect Joe Biden than Donald Trump. When asked in the weeks leading up to the U.S. election about which candidate would have better policies for the region, support for Biden was commonly four times higher than for Trump. Tunisians prefer Biden by a 40-point margin (52 percent vs. 12 percent) while the gap is 36 points in Algeria (43 percent vs. 7 percent), 30 points in Morocco (39 percent vs. 9 percent), 28 points in Libya (38 percent vs. 10 percent), and 24 points in Jordan (29 percent vs. 5 percent). Only in Lebanon are the two candidates equally supported with 17 percent preferring Trump and 16 percent Biden, but in this case a clear plurality (42 percent) says the two candidates are equally bad.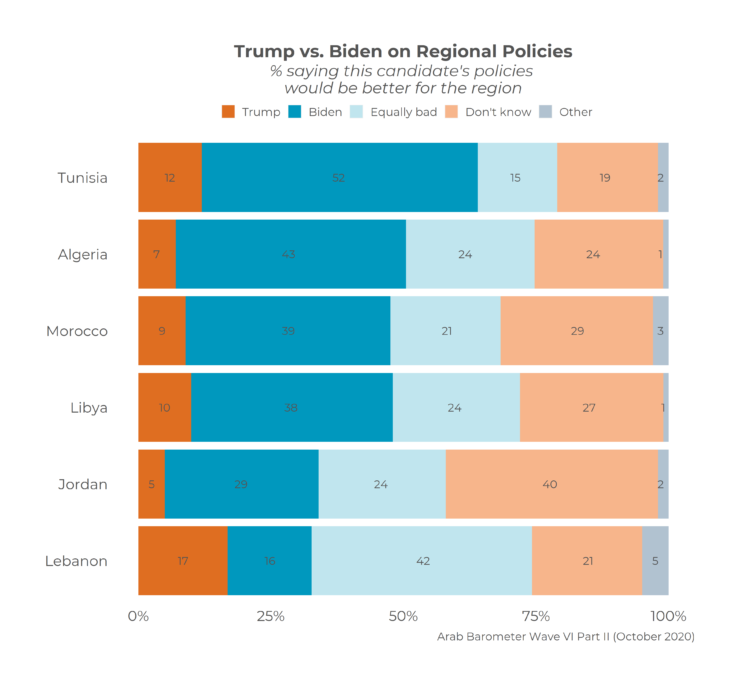 Although views of the U.S. are not likely to rise dramatically in response to Biden's election, these results do suggest that during Biden's presidency the U.S. is likely to enjoy somewhat higher support in the eyes of ordinary Arab citizens than under the Trump administration. However, without a major shift in U.S. policy toward the Israeli-Palestinian conflict or a greater engagement in the region in a manner that is seen to benefit Arab publics, it is unlikely that Biden's election will be sufficient to significantly alter views toward the U.S. given long-standing trends observed in Arab Barometer data since 2006.