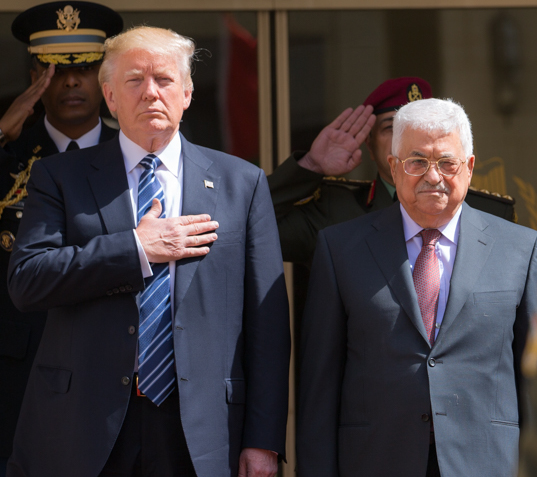 Image credit: Shealah Craighead.
Ninety percent do not trust the US Administration, 80% supported the boycott of the Bahrain workshop, 80% view the participation of Arab countries as an abandonment of the Palestinian cause, three quarters want the PA to reject the US "Deal of the Century," and the majority expects Israel to annex parts of the West Bank. Despite fears of PA collapse, the majority supports PA decision not to accept partial custom revenues. On domestic issues, Shtayyeh's government has not yet earned public confidence, the leak about ministers' salary raise deepens perceptions of PA corruption, and the majority rejects setting preconditions for reconciliation.
These are the results of the latest poll conducted by the Palestinian Center for Policy and Survey Research (PSR) in the West Bank and the Gaza Strip between 27-30 June 2019. The period before the conducting of the poll witnessed several developments including the formation of a new government led by Mohammad Shtayyeh, the intensification of the PA financial crisis as the PA was unable to provide full salary payment to its public sector, and the leaking of documents indicating illegal salary hikes for ministers by the previous government. It also witnessed the continued failure of reconciliation talks between Fatah and Hamas and the inability of Israel and Hamas to reach a long term hudna or cessation of violence. Jifna, a predominantly Christian town in the West Bank, came under attack from some Palestinian Muslims who had quarreled earlier with one of its residents. Despite the personal nature of the attack, it nonetheless generated concerns about Muslim-Christian tensions. In Israel, the right wing won the elections but could not form a government leading to the dissolution of the new parliament with new snap elections called for in September. This Israeli development led the Trump Administration to postpone the release of its long-awaited peace deal, the so-call "Deal of the Century." This was followed by the holding of an economic workshop in Bahrain in which the US Administration unveiled the economic side of its peace plan. Finally, tensions escalated in the region after Iran downed a US unmanned drone, a further threat to the region as concerns grow about a possible war. This press release addresses many of these issues and covers other matters such as Palestinian parliamentary and presidential elections, general conditions in the Palestinian territories, the peace process and the future possible directions for Palestinians in the absence of a viable peace process. Total size of the sample is 1200 adults interviewed face to face.
---
To view the full results, click on the press release below:
PSR Poll No. 72 Press Release