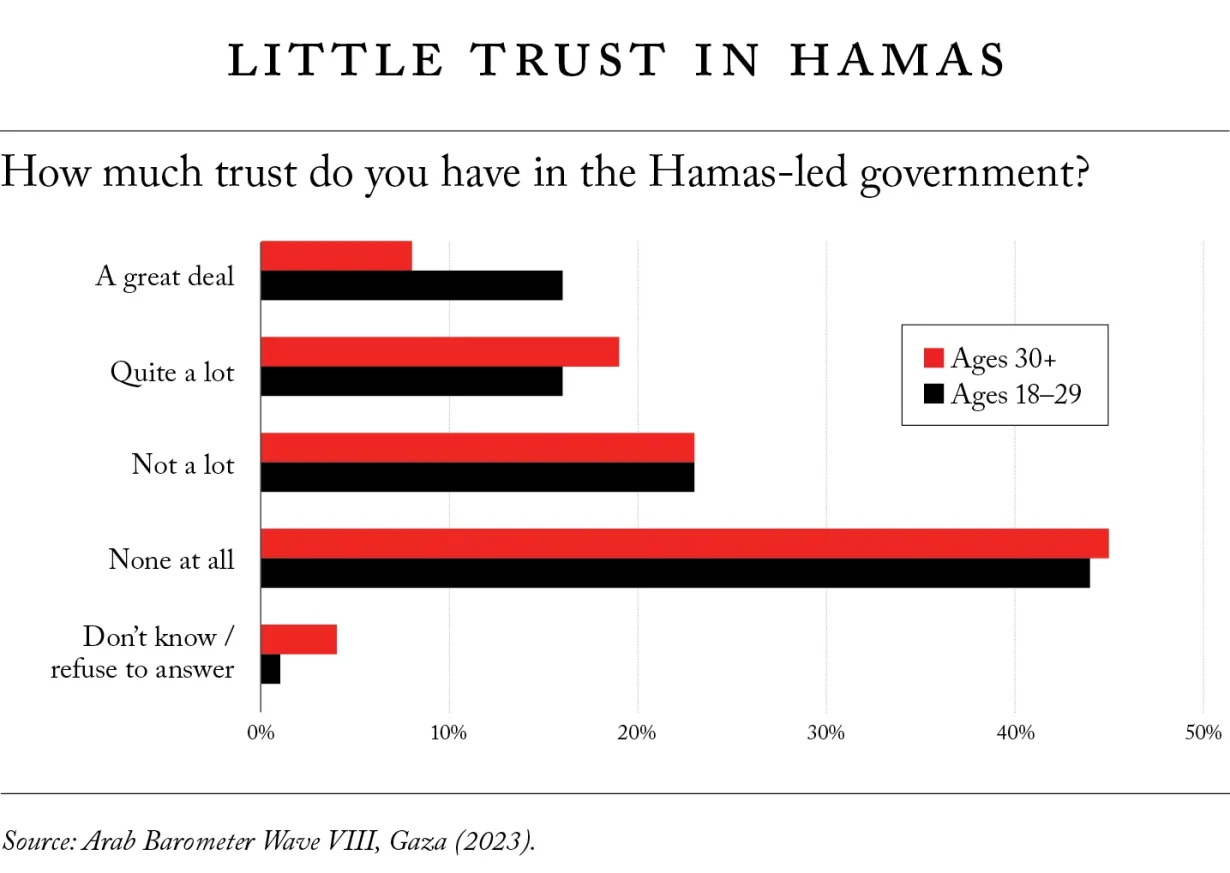 Before the War, Gaza's Leaders Were Deeply Unpopular—but an Israeli Crackdown Could Change That
Since Hamas's atrocious attacks on October 7 left more than 1,400 Israelis dead in a single day, Israel's response has exacted a heavy toll on the population of Gaza. According to the Palestinian Ministry of Health, so far more than 6,000 Gazans have been killed and more than 17,000 injured in Israel's aerial bombardment. The casualties could quickly climb much higher if Israel goes ahead with its expected ground invasion. Israeli President Isaac Herzog, Prime Minister Benjamin Netanyahu, Knesset member Ariel Kallner, and other prominent officials have called for a military campaign that covers the entire territory of Gaza. Israeli missiles have already destroyed around five percent of all buildings in Gaza, including in areas where Palestinians sought shelter after heeding Israeli calls to evacuate their homes. Some of Israel's top officials, invoking Hamas's success in the 2006 Palestinian parliamentary elections, have in effect declared that all Gazans are part of Hamas's terrorist infrastructure and complicit in the group's atrocities—and are therefore legitimate targets of Israeli retaliation.
The argument that the entire population of Gaza can be held responsible for Hamas's actions is quickly discredited when one looks at the facts. Arab Barometer, a research network where we serve as co-principal investigators, conducted a survey in Gaza and the West Bank days before the Israel-Hamas war broke out. The findings, published here for the first time, reveal that rather than supporting Hamas, the vast majority of Gazans have been frustrated with the armed group's ineffective governance as they endure extreme economic hardship. Most Gazans do not align themselves with Hamas's ideology, either. Unlike Hamas, whose goal is to destroy the Israeli state, the majority of survey respondents favored a two-state solution with an independent Palestine and Israel existing side by side.
Continued violence will not bring the future most Gazans hope for any closer. Instead of stamping out sympathy for terrorism, past Israeli crackdowns that make life more difficult for ordinary Gazans have increased support for Hamas. If the current military campaign in Gaza has a similar effect on Palestinian public opinion, it will further set back the cause of long-term peace…
Read full article at Foreign Affairs