Israeli Prime Minister Benjamin Netanyahu has announced that if elected next week, he will formally annex significant parts of the West Bank. Arab capitals were quick to condemn this announcement, potentially threatening the recent rapprochement between Israel and certain Arab governments. Relations had steadily been improving in large part because of the perceived threat of Iran to the region, which represents a shared enemy for governments in Israel, Saudi Arabia, the UAE, and elsewhere.
In the largest survey of its kind ever conducted in the region, the Arab Barometer asked ordinary citizens about their views toward both Iran and Israel. The results reveal that Israel is significantly more widely feared than Iran across the region and that few Arab citizens prefer closer relations between Arab countries and Israel.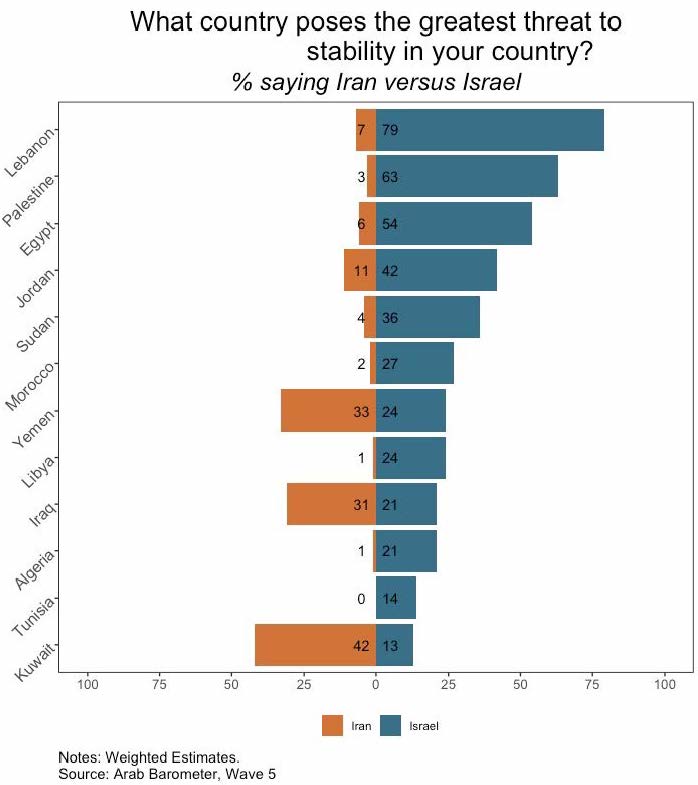 Overall, in three-quarters of countries surveyed, Israel is considered a greater threat to the region's stability than Iran. To a significant extent, this result is due to the fact that Iran is not perceived as a significant threat across the region. The key exception is Kuwait, where roughly four-in-ten (42 percent) fear Iran more than any other country.  Meanwhile, Iran is perceived as a moderate threat in Yemen (33 percent) and Iraq (31 percent), both countries where Iran has intervened directly.  Elsewhere, however, few across the Arab world fear Iran.  Just 11 percent of Jordanians say that Iran is the principle threat to MENA's stability, compared with 7 percent in Lebanon, 6 percent in Egypt, 4 percent in Sudan, 3 percent in Palestine, 2 percent in Morocco, 1 percent in Algeria and Libya, and less than one percent in Tunisia.
By comparison, Arab citizens are far more likely to say that Israel remains the greatest threat to the region. In all countries, at least one-in-ten list Israel as the prime threat to stability in the region.  Majorities hold this view in Lebanon (79 percent), Palestine (63 percent), and Egypt (54 percent), while more than a third do in Jordan (42 percent) and Sudan (36 percent). Additionally, more than one-in-five perceive Israel is the greatest threat in Morocco (27 percent), Yemen (24 percent), Libya (24 percent), Algeria (21 percent) and Iraq (21 percent).  The countries where Israel is least feared are Tunisia (14 percent) and Kuwait (13 percent).
Meanwhile, relatively few Arab citizens believe the recent rapprochement between some Arab capitals and Israel is beneficial for the region. In all countries where the question was asked, fewer than a third approve of this development, including fewer than one-in-five in most countries. Support for a greater coordination with Israel is broadest in Sudan (32 percent) followed by Palestine (24 percent), Egypt (23 percent), Lebanon and Iraq (19 percent, respectively).  In contrast, citizens living in Tunisia (9 percent), Libya (9 percent), and Yemen (5 percent) are least likely to be in favor.