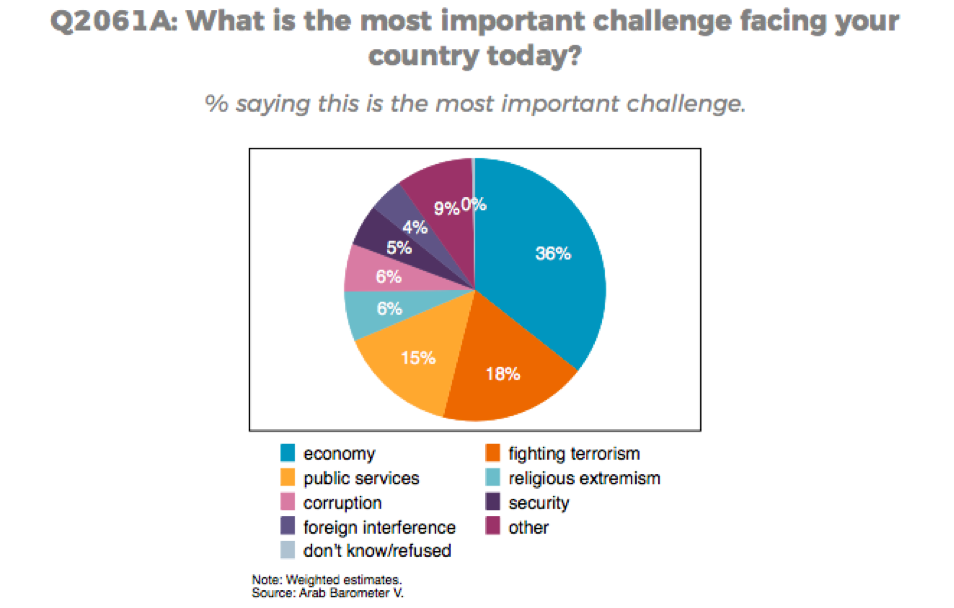 Egyptians with different levels of income and education seem to have incredibly disparate perceptions of the Egyptian reality. Richer and better educated Egyptians are systematically more optimistic about the future of the economy, report higher satisfaction with the current government's performance, and demonstrate higher levels of trust in the private sector. That Egypt suffers from inequality of income and opportunity is no surprise: research indicates that inequality in Egypt, as captured by the Gini Index, is generally underestimated, and is exacerbated by tightening financial conditions. As Egypt continues to undergo fundamental changes to its economic and political paradigms, it is imperative that the poorest and most vulnerable are provided with infrastructures of support.
In the past three years, Egypt's economic trajectory has been largely dictated by the conditionalities imposed by the International Monetary Fund (IMF) under the Extended Facility Fund (EFF), inaugurated in November 2016 to provide the Egyptian government with 12 billion US dollars in aid. Ordinary Egyptians continue to grapple with the consequences of this deal, but nevertheless appear generally optimistic about the present and future of Egypt's economy, with the caveat that richer and better educated Egyptians appear to be faring much better under the current economic regime than their poorer and less educated counterparts.
Trust in governmental institutions, particularly institutions tasked with ensuring law and order, remains high in Egypt.While trust in the judiciary, the government, the police, and the army remains incredibly high, trust in the parliament, religious leaders, political parties, and the Muslim Brotherhood is highly fraught.And, it appears that poorer and less educated Egyptians harbor little to no trust in the private sector. With the IMF pushing Egypt towards privatizing much of its economic activity, it is important to ensure that economically vulnerable Egyptians are not marginalized in the process.
A third of all Egyptians are generally satisfied with government performance, although richer and better educated Egyptians report higher levels of satisfaction, particularly in the areas of health and education. It is also interesting to note that Egyptians that are more well off are more likely to think that the government is doing a good job of keeping prices down and providing opportunities of employment.
Regardless of income or education, the status of women in Egypt remains dire. More than half of Egyptian women report being subjected to verbal or physical harassment within the past 12 months. The practice of Female Genital Mutilation (FGM), although illegal, is still accepted by a third of all Egyptians. Clearly, there is still much to be achieved in the area of women's rights and gender equality.
Egyptians, regardless of wealth and education, continue to have a complex relationship with political Islam, but support for the involvement of religious leaders in the political process is generally in decline. Nevertheless, Egyptians prefer political leaders that are religious despite the fact that more than half believe religious leaders are as corrupt as those who are not religious.
These are among the key findings from a nationally representative public opinion survey conducted in Egypt by the Arab Barometer from 13 October 2018 to 11 November 2018. The survey is comprised of 2,400 computer assisted personal, face-to-face interviews, with a margin of error of 2 percent.
---
For further information or to request an interview with an AB expert to comment on public opinion findings in Egypt, please contact Aseel Alayli, Communications Manager, by email: aalayli@princeton.edu or +1 202-716-9068.