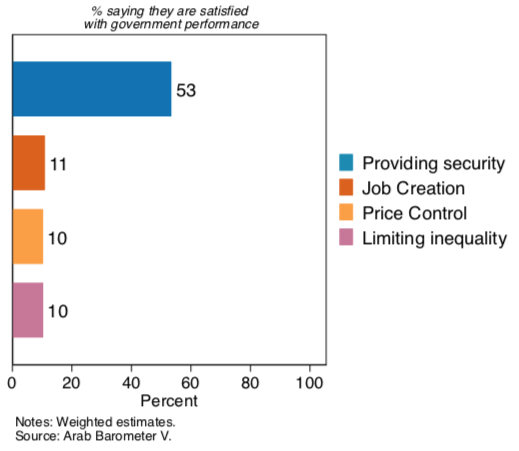 Executive Summary
Beginning in February 2019, many citizens began to take to the streets which ultimately resulted in the resignation of President Abdelaziz Bouteflika. On the eve of the protests, Algerian citizens were not only deeply frustrated with economic conditions, but with the system as a whole. Perceptions about the state of the economy and optimism about the country's future have plummeted since 2013, yet, fewer than half say that the economy is the country's biggest problem. Instead, a nearly identical percentage say that corruption or the quality of public services are the country's primary challenge.
Algerians have limited faith in their government to perform its duties. Just one- in-ten say the government is doing a good job tackling unemployment, inflation, or reducing inequality. Despite the peace that has followed the civil war of the 1990s, on the eve of the protests only half said the government was doing a good job providing security, suggesting a widespread frustration with the coun- try's rulers. Faced with these broad challenges, nearly a third of Algerians seek to leave their homeland to pursue a better life abroad.
Support for democracy is relatively low in Algeria compared with other countries in MENA. When asked if democracy is always preferable, fewer than half agree with nearly a third saying sometimes a non-democratic government is prefer- able and one-in-five saying it doesn't matter what kind of government they have. Meanwhile, few Algerians say their country is currently democratic despite the fact that just one-in-ten defines democracy in terms of free and fair multiparty elections.
The Algerian civil war in the 1990s was fought between Islamist forces and their more secular opponents. In the two decades that have followed, this divide remains stark. Roughly equal percentages of Algerians support and oppose a greater role for religion in public life.
Meanwhile, although Algerians are increasingly likely to say their country should open up to the outside world, relatively few want closer relations with key global or regional powers. Similarly, relatively few want increased aid from the outside world, reflecting a deep suspicion about the motivations for giving aid. In fact, a majority says that the primary reason foreign countries provide aid is to gain influence over Algeria.
These are among the key findings from a nationally representative public opinion survey conducted in Algeria by the Arab Barometer from 30 January – 18 February 2019. The survey conducted 2,332 face-to-face interviews in the respondent's place of residence has a margin of error of ±2 percent and had a cooperation rate of 76.7 percent.
To read the full report, click on the link below.
Algeria Country Report 2018-2019