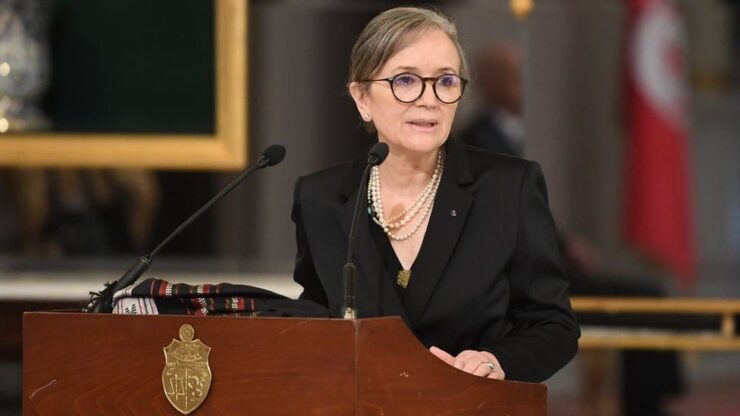 Tunisia has seen a marked shift in attitudes towards women political leaders since Najla Bouden became the first female prime minister in the Arab world. However, this doesn't mean that life has dramatically improved for Tunisia's women, writes BBC News Arabic's Jessie Williams.
Bochra Belhaj Hmida has spent her whole life fighting for both gender equality and democracy in Tunisia – "one of which cannot be achieved without the other," she says.
After the revolution in 2011 – which saw her take part in the mass demonstrations that led to autocrat President Ben Ali being ousted – Tunisia passed a gender parity law. It requires political parties to have an equal number of men and women on their list of candidates to serve in parliament after elections.
It was around this time that Ms Belhaj Hmida joined a political party, Nidaa Tounes.
But being a woman in politics in Tunisia – and a woman fighting for equal rights – is not easy.
"I have experienced harassment, smear campaigns, defamation, death threats and calls for my assassination," she says, adding that she has been under state protection since 2012.
But Tunisia is now undergoing a significant shift in attitudes towards women in positions of power, more than in other parts of the Arab world.
A new survey, carried out by Arab Barometer on behalf of BBC News Arabic, found that Tunisia has seen the largest decline in the number of people saying men are better political leaders than women.
Since 2018 there has been a drop of 16 percentage points – from 56% to 40% – in those agreeing with the statement that "in general, men are better at political leadership than women".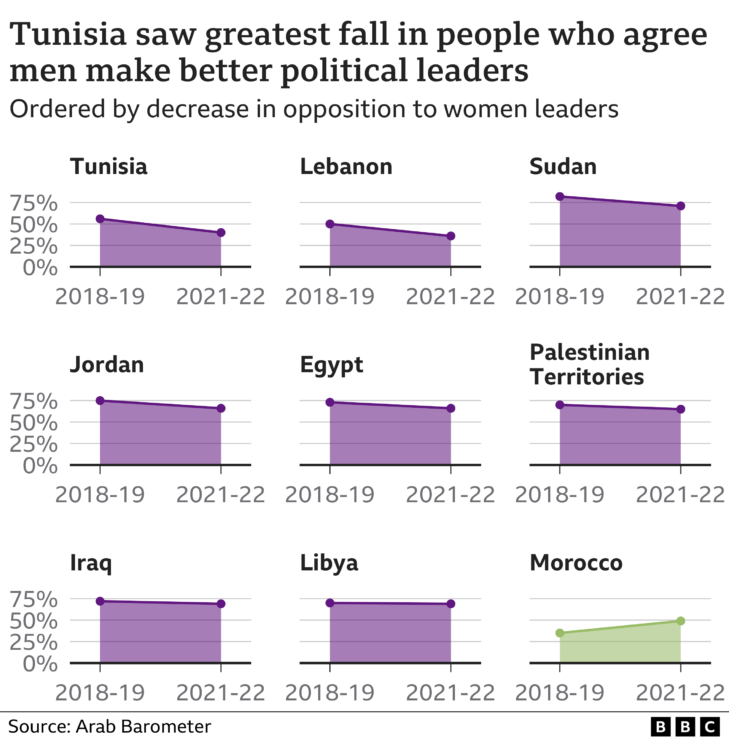 The survey was conducted around the time Tunisia got its first female prime minister – geologist Najla Bouden, who was appointed to the post by President Kais Saied in October 2021.
This shows the role model effect, says Amaney Jamal, the co-founder of Arab Barometer and Dean of the US-based Princeton School of Public and International Affairs.
"We didn't see a drastic shift in public opinion on women's rights, prior to this appointment," she says, adding that it "allowed people to say: 'Guess what, women can be just as effective as political leaders as their male counterparts'."
But Ms Belhaj Hmida describes Ms Bouden's appointment as being a "double-edged sword"…
Read the Full Article at BBC News