A new poll obtained exclusively in advance by Newsweek reveals that China leads the United States in popularity among the people of at least seven Arab countries, as Beijing's ambitious outreach continues to find fertile ground in a region in which Washington has left behind a difficult legacy.
But challenges have emerged for the Chinese effort to win hearts and minds in the Arab World, as there is some degree of skepticism toward what Beijing has to offer.
Arab Barometer, a nonpartisan research network based at Princeton University that has been conducting high-level polling in the Middle East and North Africa since 2006, conducted the survey in Iraq, Jordan, Lebanon, Libya, Mauritania, Morocco, the Palestinian territories, Tunisia and Sudan.
The results, soon to be featured on Arab Barometer's website, showed that only in Morocco, which had the highest opinions of both countries, did respondents have a slightly more favorable view of the U.S. (69%) than China (64%), and in Jordan, they were tied (51% each). China achieved the same figure (51%) in Lebanon, but the U.S. (42%) was nine points below.
Those who had positive perceptions of the U.S. were in the minority in most other countries, with the exception of Sudan, where the U.S. (57%) was only three points behind China (60%), and in Mauritania, where the U.S. scored exactly half (50%), while China had a 13-point lead at 63%.
Double-digit leads were also scored by China (50%) against the U.S. (33%) in Tunisia and in Libya, where just under half had a favorable view of China (49%) and even fewer had a favorable view of the U.S. (37%).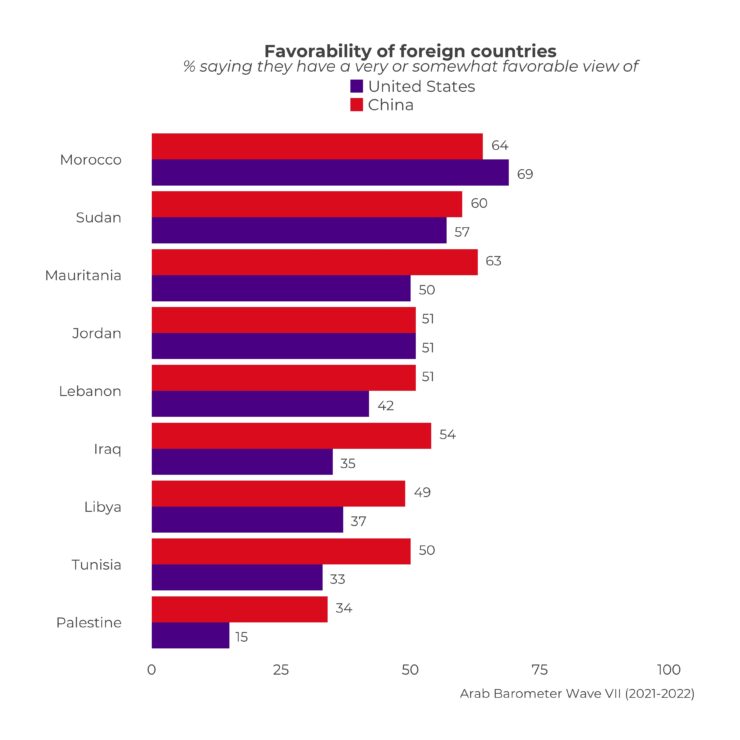 Michael Robbins, director and co-principal investigator at Arab Barometer, discussed the findings of the study with Newsweek.
"China has recently reemerged as a power in the MENA[Middle East and North Africa] region," Robbins said. "China stepped in with a number of advantages, with few regional entanglements and a stated desire to remain apolitical in the region. Through its Belt and Road Initiative (BRI), it has increased levels of economic engagement across the region."
"Given the direct meddling of many other powers," he added, "its more neutral political stance may have appeared refreshing to many ordinary citizens across the region."
Chinese officials have frequently criticized U.S. interventions across the Middle East and Afghanistan, and have taken a far more neutral stance on geopolitical issues in Beijing's extensive business dealings with Iranian, Israeli, Palestinian and Saudi firms, among others.
With the exception of Israel, Jordan and the Palestinian territories, every Middle Eastern and North African country, including the other seven surveyed by Arab Barometer, has signed on to the BRI…
Read full article at Newsweek