For political scientists monitoring the Arab world, the Kuwaiti elections typically pose two questions. First, how is it that only one woman is elected to parliament in a country where 13 women were candidates and a country with several women chief executive officers? Second, why are there so many elections in general?
According to 2022 Arab Barometer data, younger Kuwaitis are slightly less interested in politics than their elders. Yet, the most salient questions inside Kuwait are more related to the political gridlock and the role of youth in transcending it. 
Political gridlock has delayed economic growth in Kuwait while neighboring countries have achieved economic development objectives more cost-effectively, according to Ahmed Aljarallah in Al-Seyassah. Aljarallah attributes this situation to an absence of leadership that is "strong and capable," expressing he does not expect this political gridlock to end.
Alqabas provides similar opinions in more optimistic ways. "For parliamentary elections are not only a democratic practice and a victory for candidates accordingly; rather, it can be seen as a factory for the creation of innovation and creativity for the visions, programs, plans in every part of life," wrote Asrar Hayat in her column. To achieve a Kuwaiti renaissance and program, Hayat suggests a two-pronged approach. First, elected officials should work with their predecessors to draft laws. Second, appointed officials should listen to youthful voices and uplift the solutions they express in their political activities and the fora that occur prior to elections. Hayat's posing of solutions is optimistic because it deals with collaboration.
We are still about 11 years away from achieving the 2035 vision goals, writes Dr. Dhari Adel Alhuwayl in Alqabas. It is not too late to work towards the goals relating to education, health and other forms of caring for the youth. All parliamentary members must work together to create laws and provide regulatory oversight for achieving these goals that will enhance the democratic freedoms provided in the 92nd article of the Kuwaiti constitution, he wrote. Alhuwayl's opinion is optimistic because it shows both determination and respect for freedoms granted in the Kuwaiti constitution.
The opinion of the prominent economist Amer Theyab Altamimi in Alqabas focuses on another solution that would enhance the quality of life for Kuwaiti youth. "Focusing on creating real employment opportunities in both the public and private sectors for citizens entering the job market is of prime importance." He writes that improving educational systems would balance the demographics of nationals to non-nationals in Kuwait. He notes that while parliament focuses on political solutions, ongoing economic development is necessary. 
Kuwait's economic stagnation, which is reflected in all international development indicators, can be attributed to this political gridlock, writes Yousef Ahmed Aljalahemah in Alrai. Three columnists in Alanba write about the impact of this political gridlock on the morale of citizens: Dr. Abdulhadi Abdulhameed Alsaleh, Abdulmohsen Mohamad Alhussaini, and Mishal Alsaeed. 
Others focused on environmental protections or its impacts. Adel Naif Almizal wrote about the importance of recycling industrial waste. Mohammed Abdulhamid Alsaqer called for the appreciation of firefighters, whose work is courageous, through providing more health benefits to them. Their work is necessary for the improvement of the Kuwaiti environment and the resources associated with it, Alsaqer writes.
These responses reflect some of the public opinion gathered by the Arab Barometer in 2022. Public opinion showed that 44 percent of Kuwaitis believed that the government spending priority should be education, followed by improving roads and transportation (14 percent) and the healthcare system (13 percent). This public opinion data reflect the 2022-23 budget. According to the Ministry of Finance, government spending prioritizes education (12.4 percent), health (11.52 percent), transportation (3.37 percent) and environmental protection (0.84 percent) of a total budget of 23.5 billion Kuwaiti Dinars (approximately $76.5 billion).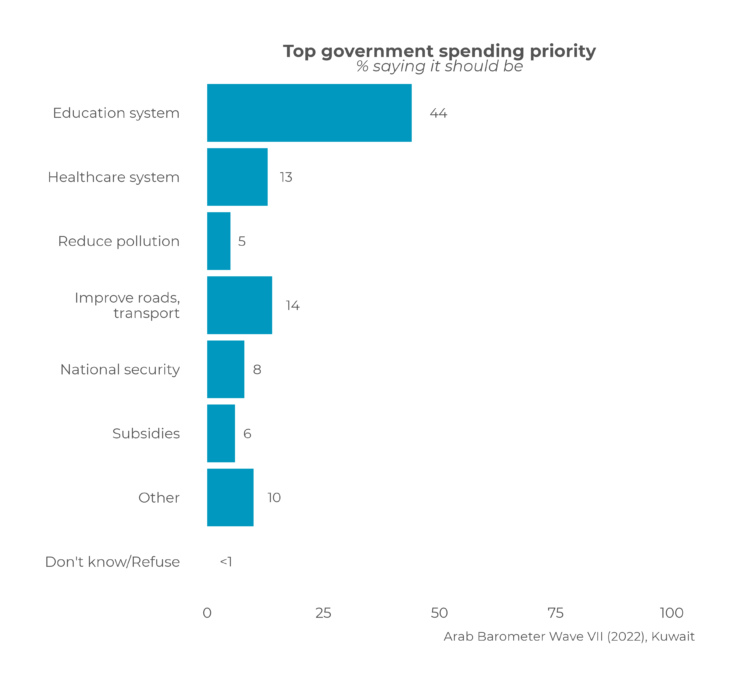 The majority of the Middle East and North African region is under the age of 40—including Kuwait. In the age of digital media, the 2022 Arab barometer report shows that only three percent of Kuwaitis rely on newspapers as their primary source of information. So why then would opinion-editorials in print newspapers be important to examine? Because these opinions have historically been the main section of newspapers where the authors are primarily Kuwaiti intellectuals. Furthermore, these elite voices focus on solutions to the problems youth face in Kuwait. Perhaps examining these themes would provide insight to the questions outsiders ask themselves.
Mariam F. Alkazemi, PhD, is an Associate Professor of Public Relations at Virginia Commonwealth University. The views expressed in this piece are her own.